Our exhibition will begin soon. In exhibition on the theme of "JAPAN BLUE", you can feel the Japanese traditions and lifestyles. we expect to be able to meet you in Shikoku-Mura also spread views of the beautiful autumn.
"World of JAPAN BLUE" directed by Sachio Yoshioka
【Period】
From October 8, 2016, to November 27, 2016
【Place】
Shikokumura-Gallery(designed by Tadao Ando) & Old Japanese houses
【Admission fee】
Adults 1200 yen ・ High school students 700 yen
Junior high and elementary school students 500 yen
【Admission time】
9:00 to 17:00 ※Shikokumura-Gallery enter until 16:30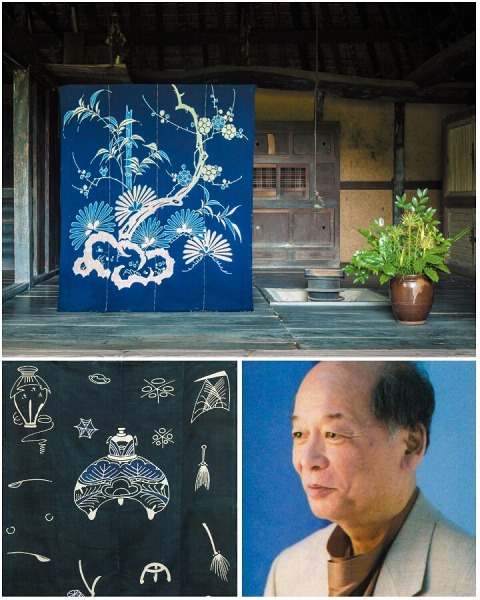 At this exhibition, the works of indigo dye collected and produced by Sachio Yoshioka, dyer and color historian, who has repeatedly researched and studied, and the collection of folk material about indigo owned by Shikokumura are opened together. "Textiles Yoshioka", the studio of Mr. Yoshioka, approaches the restoration of Japanese traditional colors harvested from plants yield. It raises dyestuff in its own field and continues to inquire into the color with the particular natural materials. Mr. Yoshioka respects the historical culture of colors essential to Japanese traditional events, such as work of gigaku costumes for Yakushi-ji Temple and dedication of Japanese traditional paper for imitation flowers decorated at Omizutori, which involves praying for a plentiful harvest, of Todai-ji Temple. He also play an active part as a director, who undertakes the art design such as modern art works.
Indigo dye owned by Shikokumura is the collection of simple folk materials such as clothing and woven cloths of futon, Japanese-style bedding. The woven cloths of futon, which wrapped futon made with cotton stuffing in, were ordered as the trousseaus and the patterns are dynamic figure of tiger, humorous animals and so on. Indigo is dyed with various dyeing techniques such as tsutsugaki, kasuri and kagazome, and the atmosphere of colorful indigo gives us pleasure. Indigo has supported the life of Japanese people since the old time and it is one of the traditional colors praised as "JAPAN BLUE" from overseas. We are glad you to enjoy the charms of "JAPAN BLUE" while thinking about the old life at Shikokumura.
<Introduction of Director>
Sachio Yoshioka, dyer and color historian
Born in Kyoto, in 1946. His birth house has been a dyeing company since Edo period.
Graduated from Faculty of Letters, Arts and Science, Waseda University, in 1971.
Foundation of Art Books Shikosha Publishing Co., Ltd. Became fifth generation of Textiles Yoshioka in 1988. Approach to the restoration of Japanese traditional colors with Denji Fukuda, another dye specialist. Participation in the events held at old temples and shrines in Nara and Kyoto in relation to textile arts. Kikuchi Kan Prize in 2010 and NHK Broadcast Culture Prize in 2012. Main authored books are Nihon no iro jiten, "Genji monogarari" no iro jiten and Ocho no Kasane iro jiten, published by Shikosha, Nihon no iro wo someru published by Iwanami Shoten, Sennen no iro published by PHP Institute and more.
★facebookでも最新情報をお届けしています★
Up-to-date information during the delivery at facebook
https://www.facebook.com/shikokumura/